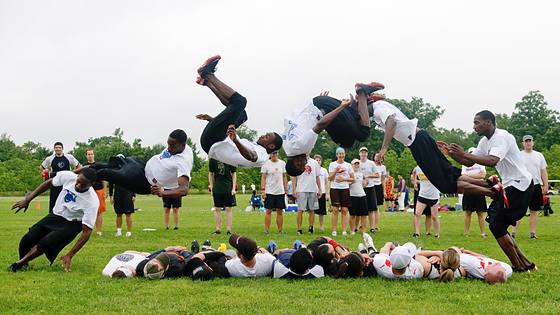 Last weekend I went down for my second Poultry related tournament . The drive alone would be enough of a barrier to stop most teams from Canada making their way down but the eight hours, plus an hour at the border and an hour for dinner quickly made into a 10 hour journey. I have crossed the border numerous times but this is the firs time I've been asked to go inside and fill out a customs form. What is it about a car full of people that scares border security?
Once we set up camp we knew we'd be in for a hot Saturday when it was hot and muggy on Friday night. The weather didn't disappoint, Saturday rolled around and it was nasty, the type of mugginess where you'd sweat just sitting in the shade. I don't know what the official temperature was but it was hot and humid, and the sun wasn't even out! This was Tundra's first tournament for the 2010 season so we didn't go in to it with high expectations, we wanted to work on our team chemistry and come out of the tournament with most positives than negatives.
Our first game was against Coop Flyers from Atlanta, which we managed to win and who doesn't like to start an ultimate season with a win!? Our next game was against eventual semi-finalists BuCocket and I wish I could say that we had the same result, they beat us handedly. They gave us a treat at the end of the game where one of their team members, Mike, managed to do a forward flip over 10 people lying down on the ground (see the photo above). We split the next couple games, beating Big Filthy River of Gorgeous Chickens and lost to a cartoon costumed Baked Beach Chicken, who were having a fun time and throwing up, and coming down with, lots of swill. Our last game was against the top seed in our pool, Cock Block. While we lost the last game, it was by far our best game, we fought hard but lost a close one in the most incredible heat around. Probably the worst conditions I've ever played in.
Tundra managed to keep the momentum going into the second day and won the first two games without too much worry. The B-Final semis was a close one, we played a back and forth game that eventually went to universe point. At this point your pride wants you to win the game but the heat and humidity is telling you to quit. Not to mention we were faced with an eight hour journey home, so there were positives to winning a losing. In the end pride won out and we didn't let our opponents get the better of us, with a long huck from Andy Milne to David Shimoda we had earned our way into the B-Final. We stormed the field and cheered but when the realization came that we were about to play our ninth game of the weekend.
The B-Final was against a team of pickups called Chicken Shit who looked like a group friends who picked up for the tournament. Wish I could say more about where they were from or who they are but at that point in the tournament, I just wanted to play and go home. It was already a long tournament and we had to play one more game. Since this was the B-Final we had pride on the line. We quickly went down 3-1, tied it at 4s and continued to play a back and forth game. Chicken Shit managed to get the lead to 10-9 with a game to 11 but we failed to score one more to force another universe point.
We lost the B-Final 11-9 in the end but we were happy, we did better than we did last year and we started to gel as a team. What more could you want. Oh I know, a quicker journey home. The final finished at least 40 minutes before we ended, so by the time we got to our "thank god we're done" beers all the other fields were deserted.
One of the things that I love about Poultry Days is the spirit of the game is alive and well. Every team I've played at the tournament has been nothing but positive, everyone has a smile on their face. People are just there to have fun and the town welcomes the players with open arms. If you haven't played in the tournament yet, then be sure you do so next year. It's a lot of fun!